1/16 Update 1/24 Update 1/27 Update 1/29 Update 2/3 Update 2/8 Update
4/1/05 Update 4/7/05 Update 4/10/05 Update 4/13/05 Update 6/13/05 Update

9/3/05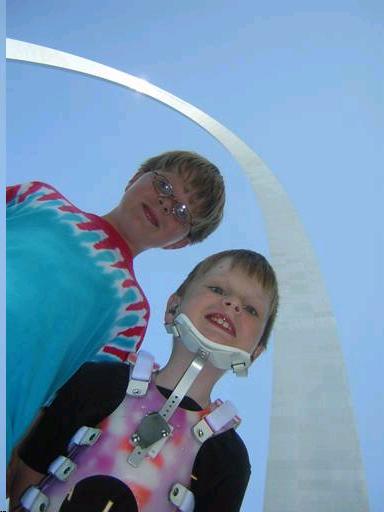 Hi everyone – it's been about three months since you last heard from me…the boys and I have just returned from three days in St. Louis and a checkup for Nick with Dr. Lenke. We had high hopes that Nick might get to come home without the brace he's been wearing since his halo came off in June, but it was not to be. He's going to wear it for at least four more months. We'll see Dr. Lenke again in January to reevaluate. Upon seeing x-rays taken at the appointment this past Thursday, Dr. Lenke concluded that Nick's spinal fusion just wasn't healing fast enough to go without the brace yet. Looking at the x-ray, it was clear that there is still much bone growing yet to go – the disc spaces between the vertebrae which were fused were still quite visible. Dr. Lenke said that this is a result of the radiation Nick had to the area in 2000 when he was treated for his reoccurrence of cancer – these bones just aren't healthy bones that are going to grow and heal at the normal rate. In his usual form, the person showing the least disappointment with the situation was – Nick.
We talked with Dr. Lenke about the type of activities Nick should or should not do and he cautioned against anything which would put direct vertical compression on the spine – jumping, running. Many activities are fine, but he basically has to keep his feet on the ground for the most part. (Easy to say, hard to do for Nick!) Nick tried to compromise and said "ok, I'll just run three times a day now"….between his dad, Dr. Lenke and me, I think we finally squashed that. So, soccer, bicycling, scooter riding and all the other things our active boy wants to do will have to wait a little longer. Dr. L did say that Nick could sleep in a soft cervical collar, rather than the full brace, now. Considering the time it takes to get him in and out and back in his vest at bath and bedtime, that makes me happier than it does Nick!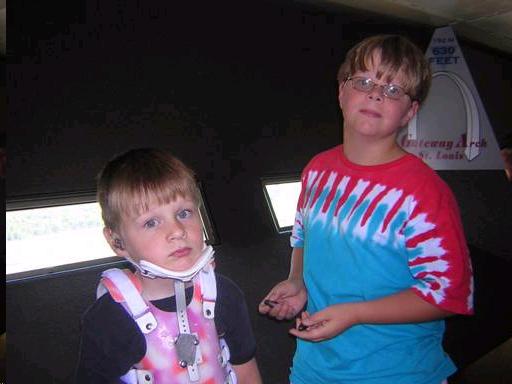 Aside from the real reason for visiting St. Louis, the boys and I had a good time out and about the city again. (I really want them to remember these trips to St. Louis for more than doctors' offices and hospital visits.) They don't tire of going up in the Arch and talked their dad into staying long enough to go up with us before he headed back to Nashville. We spent most of Friday at the City Museum – that crazy place that everyone of any age has to experience to believe. Nick enjoyed it much more this time than he did back in June when he had just had his halo removed and wasn't yet used to his vest. After about five hours, I had to drag them out. Friday night we walked all around downtown for dinner, a carriage ride, and some time playing in one of the big fountains. Of course, we swam in the indoor and outdoor pools on the roof of the Adams' Mark hotel several times – Nick can swim all he wants and never tires of it!
When I last emailed in June, we had started, but not finished, Nick's regular cancer scans – that was all finally completed after the halo was removed and all was clear. It will be four years in October since Nick finished his second round of treatment for cancer! School started in early August and we are all back in our normal routine. I expect the next four months to pass quickly, like the last eight have! Thanks to all of you who have been watching out for us, praying for us, and helping us make the best of the last eight months – we are where we are today because we have you all around us! Photo below of Nick and Will below the Arch (I got grass stains on my backside to get this one…) and inside the top of it – 633 feet high!
Carole

Hi everyone – it's been a while since you've heard from us!
Nick had his halo removed last week, on June 8, his 7th birthday – what a present!
Since coming home from the second surgery, the anterior spinal fusion, performed April 7, Nick's been making a steady recovery. The first month was pretty difficult…it really took some time before he was comfortable laying on his right side or lifting his right arm. It was the gnarliest of all the surgeries he's had. Even now, he's skiddish about being touched anywhere near that area! But, in the last three to four weeks, his activity level had reached the point that I was getting pretty nervous– he's been feeling good!
Nick is still wearing a vest, but now it has a brace attached to the front and back, supporting his chin and head (see the photo attached). He has two vests, one for daily wear, and one that can get wet…how great it is to take a bath again! And, that means pool time this summer (taking it easy, of course). The down side is that his activity level is still at least as restricted as it was before, since his head is less supported than it was in the halo. Bicycles, scooters, soccer, anything with falling, twisting or impact, won't be ok till closer to next summer. Dr. Lenke was pleased with the healing that's taken place so far – you could see the spinal fusion filling in on his x-rays. We will go back to St. Louis in September. If all is still healing well, Nick will probably get to trade the vests for a cervical collar of some type then.
This past week's trip to St. Louis was a big one. Wednesday was spent in medical activities and we got in a visit to Nick's traction buddy, Maggie, who is still at Shriner's. (Her surgery is June 20 – sixth months in traction!) Wednesday night we went to see the Cardinals play the Redsox – what a treat (although the Cards lost). On Thursday and Friday went to the St. Louis Science Center (twice), to Circus Flora – an old-fashioned, European-style one-ring circus, which was great, to the Missouri Botanical Garden (guess who wanted to do that), and, on Saturday, to the City Museum. I would recommend to anyone, with kids or just kid at heart, a trip to St. Louis just to see and do this place – imagine a giant 3-D kinetic sculpture made of recycled industrial metal stuff, including two old planes, a firetruck and a bus, which you can climb and slide through, in, and on, up to five stories high, built on to the side of an old factory building in the heart of downtown. The inside is more of the same, including an aquarium, a "skateless" park, hands-on art activities and more. We were there four hours and might have experienced 50% of it. The only thing museum-like about it is the collection of architectural ornamentation incorporated throughout – it's the most creativity I've even seen in one place! Unfortunately, Nick didn't enjoy it as much as Will since he couldn't do much of the physical stuff, but we'll be back. You have to see this place to believe it!
Ed has some better pictures of the new brace than I do…I'm sure he'll have them on his website sooner or later…www.edgrooms.com.
We're planning to enjoy the rest of this summer – hope you all do the same!
Carole


Sunday evening at St. Louis Childrens Hospital...after three nights in the PICU, we've finally gotten Nick into a regular room this afternoon!
Although Thursday's surgery went really well, on Friday Nick's chest tube wasn't draining well and he still was depending on oxygen to breath adequately. Dr. Lenke decided to have him stay in the unit one more night. By Saturday morning, it appeared that his chest tube had clotted, so one of Dr. Lenke's Fellows (he has 10 right now!) came in and gave it the roto-rooter treatment. Nothing really changed throughout the day so the doctor came back at 10:00 last night and tried again with better "tools". This time he got it open, and by this morning, Nick's chest x-rays looked clear enough for him to get into a regular room. We're in room 1009.
This morning Nick got a real workover getting in and out of his vest to have his chest tube pulled, his arterial line (IV) and catheter pulled, physical therapy, respiratory therapy and a big head to toe cleaning by his nurse - all before noon. He's been pooped out this afternoon and is snoozing again now. Ed and I both think his pain is being managed well, although he's still pretty uncomfortable. I'm hoping he'll make good progress over the next few days and that maybe we'll get home at the end of the week.
News is all medical this time...next report later in the week when it looks like we're getting home...thanks for all the great words of encouragement I've been getting from so many of you!

4
/7/05
Hello from St. Louis - Nick is through is surgery and doing well. He's laying here beside me in Pediatric Intensive Care in morphine la-la land. We came in this morning at 6:00 a.m. for the 7:00 surgery - he didn't seem to be nervous at all. (But Ed commented that the "digital Versed", Playstation, in his pre-op room helpled!) Dr. Lenke was through and out to see us by 12:15. We got in to recovery to see Nick soon after.
This surgery was an anterior spinal fusion - a bone graft to the front of the spine. Nick was on his side for the surgery and his incision is around his right ribcage. Basically, the doctor goes in the side, behind the lung, pushing everything out of the way to access the spine. Nick's fusion extends from vertebrae T1 - T9. They took a piece of a rib from behind his shoulder blade and used that for the graft along with a synthetic bone material (BMP). Everything went as expected, no complications at all. Nick has been awake for just a few minutes here and there and hasn't seemed to be in too much pain yet. Tomorrow will probably be different as he wakes up more. He'll be moved to a regular room tomorrow.
Nick got to spend yesterday with his friend Maggie, who is still in halo traction at Shriners. (Her spine is still straightening so well that Dr. Lenke postphoned her surgery from this week till late June. That will be more than six months in traction!) I picked up Maggie and her mother and took them to the St. Louis Science Center with Nick and me. We got to see the IMAX Fighter Jet movie that Nick has been so interested to see. Nick in his halo vest and Maggie in her halo traction wheel chair rig were a mobile exhibit themselves! We only had a little time before and after the movie to actually experience the exhibits, but Nick and Maggie discovered an interactive surgery exhibit about donor organs where they could pick up a life-like rubber organ from the torso of a mannequin draped for surgery then place it in a stainless steel surgical pan which triggered a video of the transplant surgery for that organ...they spent just about all of their time here, doing every organ more than once...Maggie's as fascinated with it as Nick! We can't wait to bring Nick's brother Will back here with us this summer.
I'll update you all again this weekend...Carole

Hello to all of you keeping up with Nick's progress….we've been home almost two months now, and we're going back to St. Louis next week for Nick's next surgery. We leave on Tuesday and have appointments that afternoon and Wednesday. The actual surgery is Thursday, April 7. This procedure will be an anterior spinal fusion – basically, a bone graft to the front side of the spine opposite all the screws and rods that were placed in January.
In many ways, these weeks home have turned out to be physically easier than I feared they would be. Of course, that's due to Nick's ability to adapt to just about anything! He's gotten so adept at moving about in his halo vest that it really doesn't stop him from at least trying to do whatever he wants. (I'll attach a picture at the end…) He's amazingly fast in it, and, yes, scares me from time to time!
The difficulties come from little daily inconveniences – he has a difficult time getting comfortable while doing his school work, (since he can't move his head to look down, he has to get his whole body positioned to see his work), can't get his pants up by himself, can't buckle his seatbelt in the car, etc, and of course, gets hot and sweaty. Keeping him clean is a chore since the whole contraption can't come off. We've had a bit of trouble keeping his pin sites (where his halo is screwed into his head) clean and in good shape – he's actually on antibiotics now to fight off infection that had begun in a few of them. The first question everyone asks is "how does he sleep in it?" and that has turned out to be a non-issue. He just does… as if he's not even aware of it! You can imagine the comments and questions we get when out in public, and Nick is quick to speak up and volunteer plenty of information to anyone who shows interest! Little kids will come up to him and just say exactly what they're thinking…pretty funny sometimes!
I'm glad to say that Nick has kept up with his class in school work, no problems there! We work every morning at home, and his teacher, Alice Barnes, comes over two afternoons a week. Nick loves these visits, and Alice has gotten a pretty good picture of how my house can be Grand Central Station sometimes! I'm not sure how she gets much work done some days… J.
I'll report to you again after the surgery either Thursday evening or Friday morning. We'll be at St. Louis Children's Hospital the whole time and hope to come home about a week after the surgery.
Many many of you have been "taking care of us" in every imaginable way…thank you, thank you! Our support community is unbelievable!
Attached pictures – riding the "green machine" in the street in front of the house and checking out the first stage engines of the Saturn V rocket at the Huntsville Space Center during spring break week.

We're home! We got in late Sunday afternoon to find our neighbors (awesome, as usual) had readied the house for our arrival with balloons, flowers, a stocked 'fridge and more! We flew home on the private plane of a friend of a friend – an hour and 10 minutes, from one small airport to another…how easy it was! We had plenty of welcome company up until bedtime. There's still lots of adjustment to be made with getting around the house, sleeping, dressing – you name it, it's a little different – but already, day two home has been much easier than day one. The outpouring of cards, letters, gifts and help of all kinds that we've received from our friends and family has been overwhelming and humbling – thank you to all of you for being part of our lives! I hope we'll be getting out and about a bit soon –

I received confirmation from Comcast today that they do limit the number of recipients an email can have from webmail...so that confirms that my update #4 and #5 did not get delivered to about 2/3 of the folks it was addressed to. This email is going to all since I can't be sure who didn't get them. I've pasted a copy of both #4, which was sent last Thursday night, 2/27, and #5, which was sent last Friday afternoon, below. While I'm at it, this might as well be update #6 -
We are in the process of packing up Nick's room to leave right now. We've got one more physical therapy session today then we can leave. We'll be going to a facility used by hospital families for lodging called
YouthBridge
- it's kind of like a Ronald McDonald House. We'll be headed back to Franklin on Sunday.
The past weekend was long as Nick dealt with some pretty big pain from his surgery. He was receiving morphine continuously and had a pump for boosting delivery himself as needed. He wouldn't let that button leave his hand! It seemed like he was at his limit of tolerance for the pain (which for Nick is a lot!) for about three days, just miserable, but once they were able to wean him off the morphine and get him on simple Tylenol with codeine, things improved rapidly!
Dr. Lenke took the bandages off Nick's incision and removed the drain from the site on Monday afternoon. He also got a new vest lined with sheepskin
(see
picture 1
and
picture 2
)
that day....getting bolted in and out of that thing twice while it still hurt so much to move was not fun. He was worn out by supper time! Tuesday he started to eat a bit again and had x-rays. Getting out of the room in the wheelchair was really what he needed. Yesterday, he was out quite a bit, in the gift shop, bingo in the playroom, and the cafeteria. Better yet, he was acting more like himself, being silly with his daddy, quipping with the nurses!
Physical therapy started immediately, while still in the intensive care unit. At first it was simply the smallest motions of hands and feet, but everyday they've worked with him twice a day. On Friday he sat up on the side of the bed for 8 minutes, 10 minutes on Saturday, then Sunday about an hour in a wheelchair. He didn't try to stand up until Saturday and even then he couldn't begin to support himself and only stood for a few moments. The standing and sitting progressed little by little and by yesterday he was spending most of the day in the wheelchair. He also got a reverse walker yesterday - once he figured out how much that helped, he was really motivated to move. This morning, he walked it about 50 feet down the hall to therapy with no help. Seems like Tuesday evening was really a turning point - progress has been rapid since then. Yesterday and today he's had sessions working on getting up and down steps - yesterday it wore him out, but today he really did well!
Nick will use his wheelchair through this weekend and maybe for a few more days, then use a walker to get around until he's stable on his own. The halo vest really makes him top heavy, so it may be a little while before he's getting around completely on his own. There were pictures of Nick in his vest attached to my previous two emails that didn't get out - I'm not reattaching them here since it makes the message too large, but you can see them on Ed's website - www.edgrooms.com. He's really spent some time the last few days getting that completed - all of Nick's x-rays are there, so you can see the remarkable change in his curvature! There are also pictures through the last week.
After we leave here, we're going to kill time playing in the rec room back at Shriner's, as a visitor, whenever possible. Nick's anxious to play with Maggie, and she, him, I'm told by her mom! The cards and packages that have come here all week have sure been a welcome distraction - thanks to you all! We'll see you in Franklin soon!
Carole

January 29th, 2005 - Update no. 5
Hello to all - snowy Saturday morning here in St. Louis...just a quick update....
Nick was moved out of pediatric intensive care to a room on the 10th floor late yesterday afternoon. It's much more comfortable for his dad and I, but I'm afraid Nick is still pretty miserable. He was fitted into his halo-vest yesterday before leaving the PICU - there's a
picture attached
of this taken as it was being assembled on him.
The vest is basically bolted on - and it won't be taken off on any regular basis. (Later, the tool set needed to get him out of it was taped to the front of the vest in case of emergency.) Right now there's a hospital gown under it, but later the orthotist who made it will add a sheepskin lining which will go over bare skin. The vest will have to come off on Monday morning when Dr. Lenke comes to look at his incision, so we'll get rid of the gown then. He'll be in this contraption till the halo comes off - end of May / first of June time frame.
All the moving around it took to get Nick sitting up for the first time to check the fit of the vest did not make him happy! Physical therapists are coming by twice a day to work his arms and legs, and this afternoon they'll help us
get him into a wheel chair
. This morning, he sat up for about 10 minutes and reluctantly stood up for just a few seconds. He's remaining awake for longer periods of time now, but still using his PCA to give himself a little boost of morphine often (right back to sleep). He looks lots better - not so puffy!
I wanted to attach the before and after surgery
x-ray pictures
here, but can't access them on this computer the way they were sent to me by Dr. Lenke's nurse. Ed has put these and others on his website,
www.edgrooms.com
. Click where it says "click here to find out the latest on Nick's progress" and it will take you to a link right to them. I think it is really remarkable to see the before and after - what a change!
We're doing fine - everything is going as well as could possibly be expected. As of today, we expect to get out of here on Wednesday or Thursday. We'll stay in town through next weekend and may be home a week from Monday.
Carole

January 27, 2005 - Update no. 4
From St. Louis Children's Hospital, Thursday evening (1/27)...
Nick's surgery is complete and successful!
We got here about 6:00 this morning and he went back to the O.R. at 7:15. We got updates from one of the OR nurses about every two hours, and Dr. Lenke was out to see us by 3:30.
Nick's curvature is now 40 degrees - a big improvement over the 100 degrees he had to start with and at the upper end of the normal range. He has 14 pedicle screws which extend from vertebrae C7 to T7 (if I remember correctly from the quick look at the post-op X-ray Dr. Lenke brought in to show us); seven on each side holding the rods. (I think we will be able to attach to a future email a picture of his before and after x-rays which will make this much easier to understand for those of you who aren't familiar with this stuff.)
He had a bit of bone taken from his hip for the bone graft ("spinal fusion") as well as the synthetic bone graft material (BMP). While he was still under anesthesia they fit him for his halo vest which will be made by tommorow. He still has scraps of plaster all over him from this- messy, but better, since it would have been painful to fit him after he was awake! He won't be able to get up until he has this vest on - it will connect to his halo by verticle rods and hold him in a stable position while things heal. Right now, Ed and I are with Nick in the pediatric intensive care unit...he'll be here one or two nights depending on how things go. He's being pumped full of morphine, so he's not saying much - mostly sleeping. What little he has said has not been happy, but his pain seems under control. He already had a PCA (pump which he can press for an extra dose of pain killer when needed) when we got to the recovery room and was pressing it himself as we wheeled him out to this unit. He's been so tough today! This morning he never shed a tear- he was mighty quiet, but did ask when he could have some of "that medicine that makes me not nervous" (Versed). He's got a really funky hair cut now - they shaved his head from the neck up to the base of his halo. All variety of lines, drains and other necessary monitoring stuff on him right now.
Many have asked the address:
St. Louis Children's Hospital
One Children's Place
St. Louis, MO 63110
We expect to be here about a week. Thanks to all for the many prayers that have been coming this way today! We'll report back in a day or two when Nick's up and about a little.
Carole

If you missed no.1 and
no. 2
, I apologize. I've had a time consolidating my address book entries from Outlook, at home, to the web based email that I'm using here. Tonight I finally had time to compare the two lists to one another and think I finally have them pieced together. If you know of someone I missed, feel free to forward!
I've waited as long today as I could hoping for a little more information from Nick's doctor before I sent out an update to you- it's been more than a week since the last one. I didn't get all the information I wanted, but have enough.
Surgery is definitely on for this Thursday the 27th as planned. It will be at St. Louis Children's Hospital and we'll be there for about a week with Nick in the pediatric intensive care unit, most, if not all, of that time.
Last time I wrote, Nick had progressed to 15 lbs. of weight on his traction. He held there for a week, and last Wednesday, we started increasing again until he reached 20 lbs. He's been there since last Thursday evening. (Nick loves it - the extra weight makes it much easier to spin!) Dr. Lenke doesn't plan to add any more weight; he feels that any additional correction can be achieved during surgery.
When I wrote last, I didn't have the measurement from Nick's first set of x-rays taken on Friday, Jan. 14. I knew when I saw them that the correction was dramatic! His curvature measured 55 - 60 degrees! That's from 100 degrees where he started - and in one week! I haven't been told the measurement from this past Friday's (21st) x-rays (part of the info I was hoping to get today), but I could see that it was not as dramatic as that from the first week - no surprise there, really. I'm anxious to know how the 20 lbs. may have worked on it now that it's been there a few days. The most striking thing I noticed on his first set of x-rays was that on the anterior (from the front) view, you could see the discs between the vertebrae in his neck again - in previous x-rays this area was so tilted forward and compacted that it looked like a solid white block. There was even some question as to whether or not these vertebrae had already begun to fuse themselves together - obviously they weren't!
As far as other medical info, Nick's routine has included a neuro check every four hours - checks his reflexes, eye movement, tongue movement, strength and other things, two thirty-minute sessions per day walking on the treadmill while in traction at physical therapy, four visits from respiratory therapy a day to have him work breathing on a spyrometer to strengthen his lungs. Dr. Lenke comes by after church on Sunday afternoons - I mean flies by - he's barely there five minutes, but it's clear to me that he is up to the minute of every last tiny detail of what Nick's been doing.
We got Nick's blood donations in this week in preparation for his surgery (we were asked to supply two units of blood from a family member or trusted friend which will be transferred from Nashville to St. Louis..who'd think it...). Ed donated one and my neighbor Cristina Archie, donated the other - it's no secret that I think I have awesome neighbors because many of you hear all the time about things they do for me and with me, but this is definitely above and beyond normal good neighborly-ness!
There's probably more news of Nick's antics than medical news; I dread the day when he gets home and realizes that our house is not the recreational therapy department and Mom's not a recreational therapist! He has so much enjoyed all the cards, letters (especially from his classmates at school!), and goodie boxes he's gotten in the mail - something almost daily - mail time is exciting!
Last week the R.T. department had
Boy Scouts
, a magic show, bingo, movie night (old reel-reels with 3 Stooges, Little Rascals and more from some movie buff guys in town) - and that was in addition to all their usual activities! Nick and Maggie got their "out-trip" from the hospital last Tuesday too. Their teacher and one of the R.T. staffers took them out to lunch at
Pizza Hut
and to The
Magic House
(St. Louis Children's Museum) - mom's were not included. They were out for about four hours. They loved riding the lift into the
Shriner's bus
while in their walker traction!
One of last week's highlights was when Nick
turned over in his wheelchair
. He was spinning around as fast as he could...I thought this would be a great time to learn to use the video feature on my digital camera, so I asked him to do it again....on the second time around, while filming, he demonstrated the need for counterbalance weights on the footrest of the wheelchair (weight had been added up to 18 lbs. for the first time that day)...as he spun, he did a slow, spiral wheelie until he tipped right over! Needless to say, people ran from everywhere! He was laughing, of course, so I got a
picture of him
tilted back on the floor to go with the 9 second footage of the spinning wheelie. No damage; he didn't even come out of traction - it suspended his head. Loads of paperwork had to be filled out from the r.t. staff to the nurses to the doctors - by the next day
everyone
had heard about it!
Although Dr. Lenke assures the nurses that all this spinning and swinging from the head while in the walker traction is safe, some of the nurses are really nervous about it still! When the rec room is staffed with volunteers, I have to really work to make Nick tone it down because he scares some of them to death!
Will and his dad came up this past weekend and we had a pass out for Nick for six hours. We took them back to The Magic House - Nick was eager for Will to see it - and had a full day with supper out afterwards. At The Magic House, Nick was like a
moving exhibit
...it was so crowded, being a Saturday...and people were working so hard not to be caught staring, but his walker traction-contraption really drew some attention! I really wish I had hung a sign on him saying "This is halo traction to straighten my spine..ask, and I'll tell you all about it." To make things even more fun, it was 17 degrees with 20 - 30 mph winds and that unit had to be disassembled/assembled to get in and out of the car (thank you Ed for doing most of it!) Will and Ed left at noon on Sunday and Nick was worn out that night!
Next report from me will be after surgery sometime this weekend. Thanks to everyone for all the prayers and good wishes! We couldn't do it without you!
Carole

Hello to all from St. Louis - I can't believe we've been here 10 days now! Nick has completely lost sight of the fact that he his here for a medical procedure; I guess that's ok for the time being! I never dreamed our days here would be so packed with activity...we're tired at night... at least on weekdays. The weekends are much slower.
Nick reached 15 pounds in weight on his traction by Tuesday evening and has also been without pain killers since Tuesday. He seems to think more of his walker as a kind of moving jungle gym than as traction...he has found everyway in the world to
swing from his head
, ride the walker after giving it a good running start, climb the traction pole and jump down...you name it. He's scared more than a few folks!
I am hoping we'll see Dr. Lenke today (he visits here on Sunday afternoons) and find out how we're going to progress in traction from here. Last Sunday he told me that he expected to go to 20 or 25 pounds. This past Friday Nick had x-rays taken while in traction and I could see a marked difference in the angle of curvature of his spine. It was 100 degrees when we started and I am so anxious to get the official measurement of how much it has changed!
Will
, Ed and my sister
Betsy
have all been up for a visit this weekend. On Friday, Nick was wound as tight as I've ever seen him in anticipation of seeing Will that night...he was just wild! They had a good visit and I had a good break from my weekday routine. Ed downloaded all the pictures I've taken
throughout the week
and added them to his webpage along with those we took
this weekend
. He'll probably have it updated late tonight (they just left at noon today). Since I'm probably going to get kicked off the computers here at the library before I have time to add pictures to this, look at his website...
www.edgrooms.com
...he'll probably have some good video of Nick spinning by the head too.
I continue to be amazed by the stream of young patients coming into Shriners Hospital here. As of this week, I recall people from all over Missouri as well as California, Florida, Oklahoma, Arkansas, Kansas, and Illinois. There are Shriners sitting around the lobby and cafeteria all the time, easily identified by the ever-present fez. I have learned that most of them are drivers for the transportation group of their local shrine. They drive the patients in from everywhere!
All the patients who are here for more than two weeks are members of the "Great Lengths Club". It has been Nick, his buddy Maggie (with whom he is inseparable) and Kelly, a 16 year old girl from Florida as of yet. They are all three in halo-traction. They get their own activity once a week - parents not invitied. (The halo moms took advantage of this to get out for dinner this past week!) Kelly's current condition is, like Nick's, the result of treatment for cancer. She had a brain stem tumor which was treated with radiation. Her surgery is Monday and we're all anxious for it to go well for her. This coming week Nick and Maggie get their first out-trip from the hospital. Recreation therapists will be taking them out to lunch at Pizza Hut (their choice) and to The Magic House for the afternoon on Tuesday. Moms are not invited. I'm excited for them!
I just got the official boot here at the library - it's SO busy here! Be sure to look at Ed's pictures on his website. More news next weekend for sure. Thanks to all for the cards, emails and all kinds of other good wishes we've been getting throughout the week - we love hearing from you!
Carole
Home | Updates | Pics and Videos
This site was last updated 05/23/09